It's well known that The Columbus Co. can be considered amongst the most prestigious pen manufacturers. In this regard, detailed information has been published in the most important vintage pen books.
Here, we show you some models produced by the company from the early 20s to 50s.
In 1918-19, Mr. Eugenio Verga founded the Columbus pen company in Milan.

figure 1
Most of the early models were very well made overlay safety pens, often with many sided bodies (Figure 1 and 2). Generally, the body was engraved "Columbus 18Kr". The nib was engraved "Columbus extra 14 Kar", while the clip can be found with a lance-like design or a floral design.

figure 2
During the 20s, Columbus' line was characterized by the production of overlay safety pens, and from the late 20s the company started to build celluloid pens. In this regard, of great interest was the "98" model (figure 3, 4, 5). The Columbus 98 can be considered among the best of Italian celluloid pen production. The 98's clip can be found either gold-filled or made of steel. In addition, the clip can be "arrow-like" or "roller". Generally, "Columbus 98 extra" can be seen engraved on the body, cap, and section. The nib can be found made of 14 Kt solid gold or made of steel; but they were all engraved "Columbus extra".

figure 3

figure 4

figure 5
Still another interesting fact is the ink filling technique patented by the company. It can be defined as a "spoon-filler" (Figure 6). From late 30s to late 40s Columbus co. was also producing lever and button filler pens, such as the Columbus 36 (figure 7 and 8). In particular, during the second world war, because of the scarcity of gold, nibs were made of steel.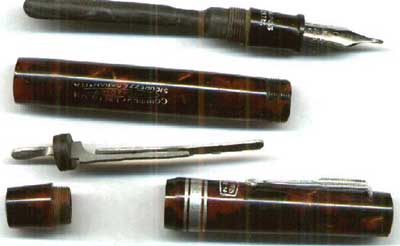 figure 6

figure 7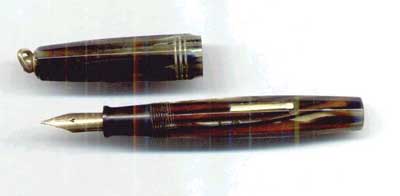 figure 8
Successively, from the middle of 40s, Columbus borrowed the Eversharp skyline design and started the production of a new lever-filler pen which was named "134" for the oversize version, 132 for the medium size and 130 for the lady version (figure 9).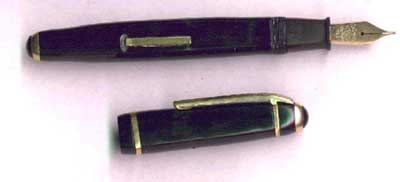 figure 9
During the 40s, some wonderful celluoid pens were produced which employed a piston filler technique such as the Columbus 40 (Figure 10).

figure 10
During the 50s, Columbus Co., like most Italian pen companies, borrowed the Parker 51 design and started the production of the Columbus 70 (Figure 11). It was a piston filler pen. Nevertheless, there are several differences which distinguish the Columbus 70 from the Parker 51. Firstly, the Columbus' pen is made of celluloid, and secondly, the cap can be found also as a screw cap. In addition, the nib can be found to be "demi-hooded" to permit a flexible writing style. During the 50s, the company also produced wonderful overlay button filler pens (Figure 11).

figure 11
In writing this article, we hope to have shown you some interesting pictures and to have increased your interest in this prestigious Italian pen company.