It's all a blur, I had to get the calendar out to try and piece together the correct sequence of events.
I arrived in Chicago on Wednesday evening, my first time in the Windy City, my first pen show and the first time to meet Len Provisor outside of cyberspace. I was greeted outside O'Hare airport with a huge snailie image poking out of the sun roof of Len's car, and from that moment on my feet didn't touch the ground until I arrived back in Ireland the following Monday.
My first revelation was the "pre-show" get together. As you walked through the hotel lobby, small groups of individuals surreptitiously disappeared into the elevators at frequent intervals, laden with pen cases. By simply following some Waterman's, I arrived at the twelfth floor where I found a busy dealer show getting underway.
Now this is something to watch, it's like a sort of ritual dance where the dealer has to lay out their pens in preparation for some selling, while simultaneously checking out the inventory at other tables. Some just dumped their cases on the table and joined the groups congregating in front of open pen cases. The trick appears to be to act cool, fumble the fastener on a case and several pairs of impatient hands reach in to finish the job.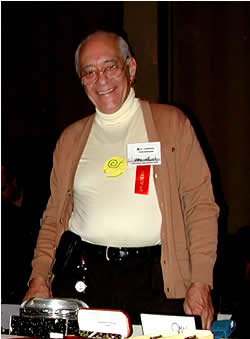 Jimmie Cockburn
I knew the good stuff was here, about to change hands before the main show was even underway. Because the rooms (there were three) were relatively small, it was possible to do circuits in double quick time, however every time I went around, I saw something different. Don Lavin immediately took time out from organizing the show to teach me how to work the show, and armed with invaluable advice I set off to appraise the tables for two hours without buying anything. I carefully watched which pens were attracting interest, and which tables were attracting the high numbers. I spotted some pens I HAD to have, and by hesitating with the pen in hand, I found that I had discovered the art of negotiation. "OK, I can see you want that for twenty bucks less", and my collection started to grow!
About three hours into the proceedings another of the organizers, Dan Zazove, pulled the lid off a box and showed me an array of perfect Parker prototypes, all different colors. As I reverentially held a mandarin yellow, several others came screeching to a halt to observe this unique sight.
By the time the pizza arrived courtesy of Judd Perlson (who incidentally can silence an entire ballroom full of people without a microphone), I had acquired a first year double jewel 51, a Conklin black hard rubber crescent filler (no fading) a perfectly colored green vacumatic and a couple of pencils. Several experts confirmed that I had done well, which is a testament to the caliber of the pens and the dealers. Before close of play I had spoken to David Nishimura, Andy Lambrou and John Mottishaw, and fulfilled a wish by purchasing a 51 with a "Mottishawed" XB stub.
By Friday the show had moved from the intimate surroundings of the twelfth floor, to the ballroom. Here the aisles were wide and it took a lot longer to walk around the tables. The number of dealers had doubled and even more familiar names were appearing. It takes a while to comprehend that nearly ALL the well known dealers and authors were actually together in the same room. After buying a copy of the Stylophiles CD from Dean Tweedale of Penlovers, we had a chat about the various sites and boards. Dean has a great collection of Parker Flighters, but unfortunately they're not for sale. It appears that he also had difficulty getting an internet connection from the hotel, so we all relied on people posting interim reports from the show on the message boards. I got a quick posting out on Friday morning at considerable cost in the hotels business center. Having winced at the cost of a can of Coke in the mini-bar, I could appreciate why show co-organizer Michael Fultz looked so shocked after supplying 200 cans for the pre show pizza party.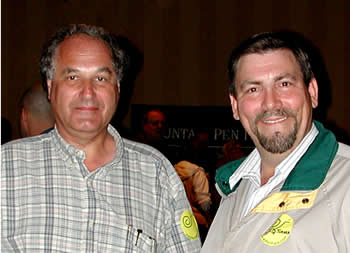 Herb Schulz and Miles Turner
In the ballroom, I encountered my first taste of first-timer syndrome, and I had to leave for a while! OK, try this. Get ALL your pen books out, particularly the "Blue Book", Lambrous and as many others as you can gather (you DO have all the books, don't you?) and put them on the floor. Now in quick succession, flick fairly rapidly through them until you get to the last one, and go through them again at least three times until you can't tell the difference between a Vintage Duofold and a dip pen. Get the idea? Now multiply by an order of magnitude and you have a vague idea of how this syndrome kicks in at a pen show. Panic sets in, everything blurs and you feel that you will never be able to choose a pen. At one point I thought that all pens had suddenly taken on the appearance of Parker vacumatics, until I realized that David Isaacson had brought at least 10 cases of vacs with him! He still managed to find ones he didn't already have, how is he ever going to decide which ones to illustrate his book with?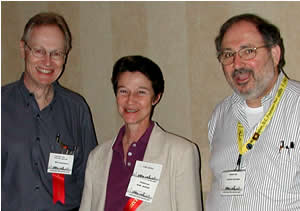 Ed Fingerman, Kim Sosin and Steve Zucker
I spent some time putting faces to names I knew and people I had only met in cyberspace, Ed Fingerman from the Fountain Pen Hospital, Ann-Marie from the Ink Pallette, The Zuckers who are organizing the NY Show in September, Frank Dubiel (Da Book), Sam Fiorella, Howard Levy from Bexley and countless others. Best of all I got to meet some familiar names from the Pentrace boards, Jimmie Cockburn, Herb Schulz and Miles Turner (who came on Sunday). Its slightly surreal to meet face to face with people you have known for so long and continue conversations that started months ago!
Friday night and its time to take a break from the tables, meet in the lobby and whisked off by bus to Buddy Guy's Legends Club. Len Provisor and Sandy Andina led the group, and while Sandy answered questions with an encyclopedic knowledge of ANY topic, Len continued working throughout the gig, ensuring that everyone at the table got an autographed poster. He even managed to introduce me to Buddy Guy himself, and got John Mayall who was playing that night to sign a poster and CD for me. Something tells me you will have to book VERY early for the blues night at next years Chicago Show.
Saturday and the show was even bigger. Highlights for me were the seminars and the auction. Don Lavin told people how to handle a pen show, Rick Horne and Neal Frank gave an invaluable Q&A on pen repair, and John Mottishaw worked his magic before my eyes. I learned more at these seminars than I had learned elsewhere in a year.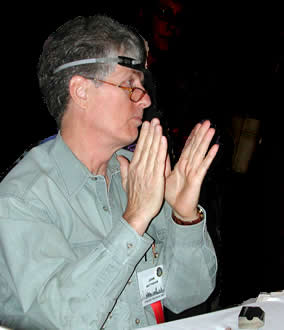 John Mottishaw
The auction was also a first for me (I haven't even bid on Ebay or Penbid). There WERE some real bargains to be had as bidders concentrated on some of the more unusual items. I picked up six Eversharp pencils, a Lady Patricia with a wonderful flexy nib, another 51 double jewel, a "True Blue" rotary pencil and of all things, a 3 inch seated "imp" from a Duofold era desk set, made for Parker by Binney & Smith.
Saturday night and Don Lavin and his wife Ellen and Dan Zazove brought me to Gibsons, along with George Fishler and his wife and the Brookings from California. Don wanted to show me what American food was all about, I just had to take a picture of the dessert to show the folks back home what these crazy Yanks are capable of! Back to the hotel and another great music session, this time with show participants playing in a jam session with Sandy Andina.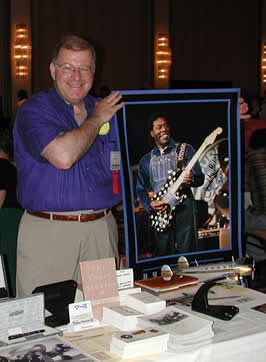 Len Provisor and "Buddy Guy"
Sunday morning and I'm warned that the crowd will be even bigger, with the main public day under way. Most of the big manufacturers and dealers are here, and the show has spilled out into the lobby area surrounding the ballroom. Some really great modern pens here to tempt me and some incredible wood display cases holding the entire Krone range. I believe that the Krone display at the New York show will not be easily forgotten! Fountain Pen Hospital have a HUGE stand with what must be most of their range on show. Lots of FTS (first timer syndrome) here, even Miles Turner has to buy me a coffee to enable him to refocus. He plays the show very well, asking lots of questions, comparing different dealers and has a pre prepared list to look for. Sunday is when the prices can "improve" as dealers seek to unload inventory before heading home. FPH have a "blow out" with $95 books going for $35! I pick up a Rotring Core (gotta love them!) and prepare to call it a day. I have everything I need, including a basic set of tools (section pliers, knock out block, dental pics, shellac, sacs) and a good illuminated 10x loupe (the Kaplans spent a good 20 minutes patiently helping me decide on the best one). As I did one last circuit, I was called over by the dealer who sold me the first year 51....and there is a beautiful cocoa demi 51 pen and pencil set, the pen having a demonstrator hood. Well when I hear the price, I quickly went for my check book and some advice. Needless to say it was a real bargain and I now have a set I didn't expect to come home with.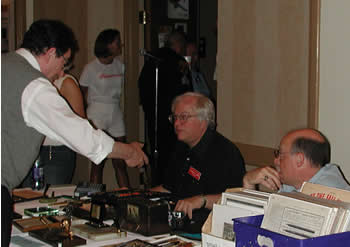 Don Lavin with George Fishler on right.
So as I'm now back home and I can think back, here are my main impressions. Firstly after reading books, a pen show is a must. It's worth the extra all show fee just for the education and the chance to meet so many great people. Secondly the dealers go out of their way to help, explain, demonstrate and generally add to your education. It's no problem to get a second or third opinion from an expert. Finally you will never see so many wonderful pens in one place, it's literally amazing. Remember to take a break from time to time, drink a lot of coffee and unlike me take lunch from time to time! I was extremely fortunate in having great people like Don Lavin, Dan Zazove, Len Provisor and Jimmie Cockburn to guide me and make me feel welcome, its an experience I won't forget.
And by the way, I wasn't kidding about the dessert!