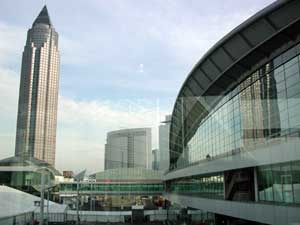 The Frankfurt fairground
I was in Frankfurt Jan 30 and managed to find a couple of spare hours to pop into Paperworld. Two hours for 10 multi-storey exhibition halls, thousands of exhibition booths in more than 600 product categories? No way, I just focused on racing through the two halls showing pens (see picture above of tower and one of the halls). My overall impression re: pens was that this event was mainly big business meeting big business, big time: booths costing hundreds of thousands of dollars (some on several levels with 30-table restaurants etc), company representatives in tailored suits, you get the picture....Last year I went to my first pen show ever in Brussels, Belgium( where I live); a tiny event in two rooms, but very homely, informal and conversational and which, unlike Frankfurt, included vintage pens. Give me Brussels-style shows anytime, but to find elusive new stuff you have to go to places like Frankfurt I suppose....I also hope to go back to see things I missed like paper, calligraphy, inks and zillions of artists materials..... Did any other Pentracers visit? Here are some subjective impressions, in no special order. Apologies for the pictures, I'm a novice with a borrowed camera.
"THE AMERICANS"
| | |
| --- | --- |
| | |
| Parker Accession Duofold | Parker Accession Sonnet |
- Parker showed two new LEs commemorating 50 years of Queen Elizabeth's accession: one based on the Duofold, in gold (above left) and a cheaper one based on the Sonnet (I think) and with resin body and gold-plated cap (above right). The enthusiastic rep. told they had been developed "with the Queen herself" (yeah right, like she needs the extra endorsement income!). Great looking pens.....if you like shiny, heavy, engraved gold. There's also a new Sonnet in black with white metal trim.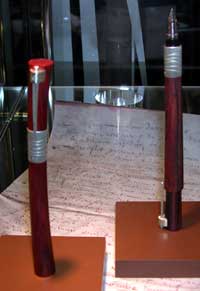 Waterman Serenite LE
- Waterman featured an LE version of the bamboo-shaped Serenite: made of "Cocobolo" wood, (?), with silver trim (above). I wanted to ask why they hadn't used bamboo, but held back (behave, Michael, they're being helpful!). Great looking, but I've tried the black resin version and find it a little top heavy for my taste. They confirmed the Edson will now only be available in blue - a shame, I'd like to see them develop the Edson concept instead.... Several new colors for lower range Watermans.
- Rotring (like Parker and Waterman owned by Sanford). I've been building up a collection of Art Pens, hoping this would cure me of "expensive pen syndrome". Great variety of smooth steel nibs. What do I see here? A dark red LE Art Pen with gold nib? Help, nurse!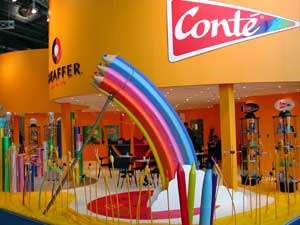 Sheaffer booth
- Sheaffer. Is it just my impression, or is this company going downmarket? (see stand pic) Wouldn't a full-blown PFM replica with snorkel be great? But I did see an interesting Legacy LE called "Black Pearl", kinda weird color but grows on you.....
"THE GERMANS"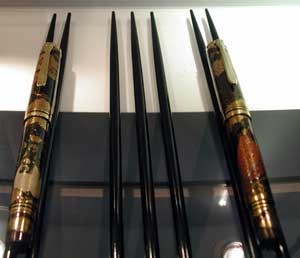 Pelikan Genji M800s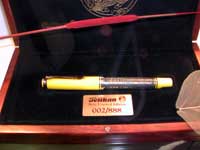 Pelikan 5th/last Asian Series LE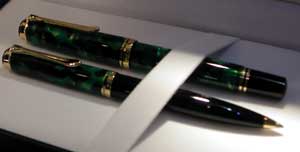 Pelikan green celluloid Souveraen
- Pelikan had a huge but ho-hum booth :-), 98% dedicated to school products, the Souveraens almost hidden in a corner. But what a corner! Novelties include two gorgeous Genji Maki-e's (based on M800) two new Celluloid Souveraeans (blue and green, called Berlin and another town whose name I don't recall) and the fifth and last of the Asia LE series (yellow resin) (see pics). I put on a straight face and asked the rep. when they'll be issuing another Souveraen color after the red.... perhaps yellow?......I'll tell Pentracers if you send me $5 each.... Just kidding, I don't know, it's a state secret! :-)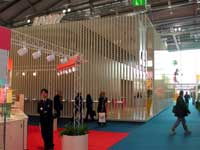 The Lamy booth
- Lamy. I went into the booth and asked the rep. "So what's new this year". Answer "Nothing!" One of the most refreshingly honest responses I've heard in a long time! I guess the 2000 is pretty timeless.... Their new booth itself was amazing, something out of Kubrick's Space Odyssey movie, it's going to win design prizes galore! (see pic)
- Faber Castell have a new Graf pen, chain mail finish, a bit like the Caran d'Ache Ivanhoe. Get this, they also had waitresses dressed in two piece swimsuits made solely of dangling wood pencils! My job is to report but Pentrace is a family forum, so no pictures! :-)
- Diplomat. This small German company has been driving people crazy for years by using proprietary converters and cartridges i.e. not compatible with other brands. I have a beautiful briar wood fp bought on vacation in Italy 10 years ago and whose converter fell apart not long after. Thousands of inky fingers and 3 unanswered letters later, I gave up and brought it to Frankfurt. To my delight, they promised to send me a stock of converters, free-of-charge. One of those great moments which made the show worthwhile....that is if I get them!
- Montblanc. Didn't see them and couldn't find them in the catalog! Afraid to rub shoulders with the hoi poloi? Shame!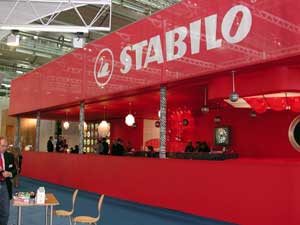 The Stabilo bar
- Stabilo. What's a marker producer doing in this distinguished company? OK, they had a great "Berlin cafe" booth which plied me with at least 4 drinks. So remember Pentracers, Stabilo is the marker of choice (slow fade jingle).
"THE JAPANESE"
- Namiki. Where else could I have seen 10 different Maki-e Emperors in one showcase? No words suffice.......but I didn't see any customers either, can anyone afford these $5K puppies?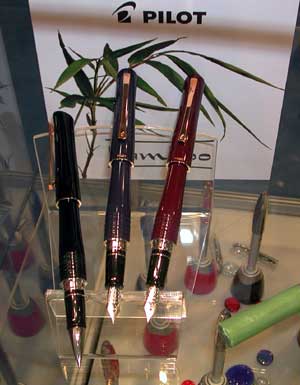 Pilot Bamboo new colors
- Pilot (separate booth). The Bamboo is now available in Europe in blue and red, as well as black.
- Sailor. Interesting briar pens, they're getting established in the US, looking to set up in Europe. A company to watch in future.
"THE ITALIANS"
- Omas. This company seems determined to try and move to the highest part of the high end market...they mainly had solid gold/jewel-encrusted LE items on display, Randoph Hearst or Ludwig of Bavaria style. They need to get back to their roots IMHO.....
- Visconti. Not present, don't know the reason....I had been hoping to finally see and hold a Titanic....and test the ballistic qualities of their travelling inkpots :-).
- Delta. Unusual marketing approach. They only showed one pen, the orange Dolce Vita, in 100 different shapes and sizes. The booth had orange carpets, the reps orange sweaters and ties.....A shame, I came to see pens!. Fran, if you're reading this, I went there for you!!
- Aurora. English library booth, wood panelling/Chesterfield leather chairs. The new 88 Demonstrators were everywhere; this pen just moved up several places on my "Wanted" list!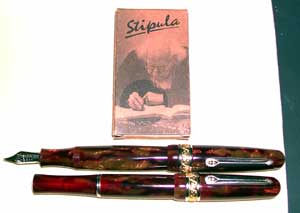 Stipula Etruria regular and retracable nib version
- Stipula. Some of you know I have a soft spot for this brand..... What a great experience! I arrived and was immediately hustled by two friendly reps to a private back room where I could pull apart or try any pen I wanted for as long as I liked. There guys are maniacs.....I love 'em! The Iris replacement is called Verrazano (like the NYC bridge) in dark blue ebonite and with a new and improved retractable nib mechanism. Wow! The art deco Novecentos will be available in dark green ebonite (like the Hercule Poirot LE); Wow, wow! The amber Etrurias continue but with modified trim and there is an amber Etruria version with the same retractable nib mechanism as the Verrazano. Wow wow wow! :-) (see pics )
| | |
| --- | --- |
| | |
| Stipula Verrazano + new ink | Stipula Novecento, green |
On the subway back to the hotel I asked myself what's the point of retractable nibs on these pens which also have caps....? Hmmm.... In case it rolls off your desk while the cap is off? Pentracers please help, this is keeping me awake at night! They're also launching Stipula ink, with a "trademark" brown. I also made my only show purchase, a piston Etruria (black, discontinued color, but I'm a sumgai!) fine nib, smooth, soft, bootiful!
"THE BRITS"
- Yard-o-Led seems determined to take on it's British rival Conway Stewart. A new large resin fp with silver trim, very...ahem...similar....in design to the CS Churchill. And a new tiny Viceroy Pocket pen, to compete with the CS Dinkie. Tiny pens, by the way, were everywhere at the show. My Filofax organizer needs an M300!
- Conway Stewart. New versions of the Churchill (I thought this was an LE or perhaps we're now talking LE of LE?), including in carbon fiber (!), quite a departure from the original image.
"THE SWISS"
- Caran d'Ache. Pushing hard on new retro versions of the timeless, hexagonal Ecridor.
"THE FRENCH"
- Recife. I ran out of time but on the way out I saw some amazing, multi-colored fps based on Andy Warhol paintings of Marilyn and Mao. I assume they are French because the reps. were speaking that language.... Can someone tell me more??